The e-Way Bill system was introduced by the government to simplify and streamline the process of GST compliance. An e-Way Bill document has to be carried while shipping the goods from one location to another. This document will carry the e-Way Bill number and other relevant details. Accordingly, TallyPrime is here with a smooth e-Way Bill experience for you and your business. The best part is that Tally's e-Way Bill solution is based on regular invoicing activity, and does not require any special expertise..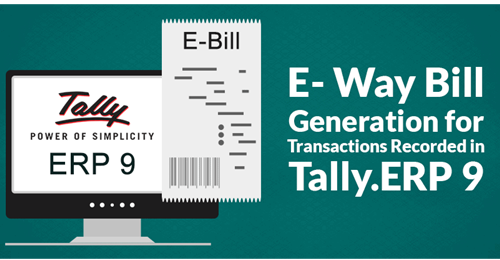 One-stop Solution for all your E-Way Bill Generation Requirements
FAQ's - E-Way Bill
Seamless Integration

Generate E-way Bill With your tally prime accounting software

E-way Bill Generation

Generate E-way Bill with One single click using tally prime

Bulk EWB generation /E-WAY Bill cancellation & Extension

This Feature in tally prime enables you to generate bills in bulk, cancel and extend your e-way bill

Realtime data Validation

Now you can check HSN & GST validation on tally prime

Save time and efforts

No more manual work Required,automate your data with tally prime

Data Security

We provide 100% data security with realtime information.
Generate E-way Bill Online